Really Pro were privileged to work with a group of Year 10 pupils at Sir Thomas Picton School in Pembrokeshire as part of the school curriculum. Our work resulted in 12 pupils gaining an Agored Cymru Level 1 Business Qualification and a range of vocational and transferrable employability skills. The Inspire 2 Succeed programme comprised of 5 sessions spread across 5 weeks. During the course of sessions, pupils gained a range of skills in digital literacy, financial management, business and enterprise skills, communication and leadership culminating with the launch of their company aptly called 'BAD Generation' – a play on words with the meaning 'brilliant and determined'.
Part of the program with the Year 10 group involved developing a continuation of activities that could be sustained post completion of the 5 week programme resulting in the formation of a management team lead by the Year 10 group. The groups success in forming their company has lead to the production of a free download single called 'Lost Boy', a range of clothing and merchandise that was designed and produced for retail via a dedicated website www.badgeneration.co.uk that was also created and launched by the Year 10 group as part of the overall activity during the course of the 5 week programme.
The Year 10 group also integrated into their business model social objectives that included supporting local young carers in Pembrokeshire via proceeds derived from the sale of the merchandise sold online from their website. The ethos behind this social objective was driven from core members of the Year 10 group who are also young carers.
CHECK OUT THE BAD GENERATION WEBSITE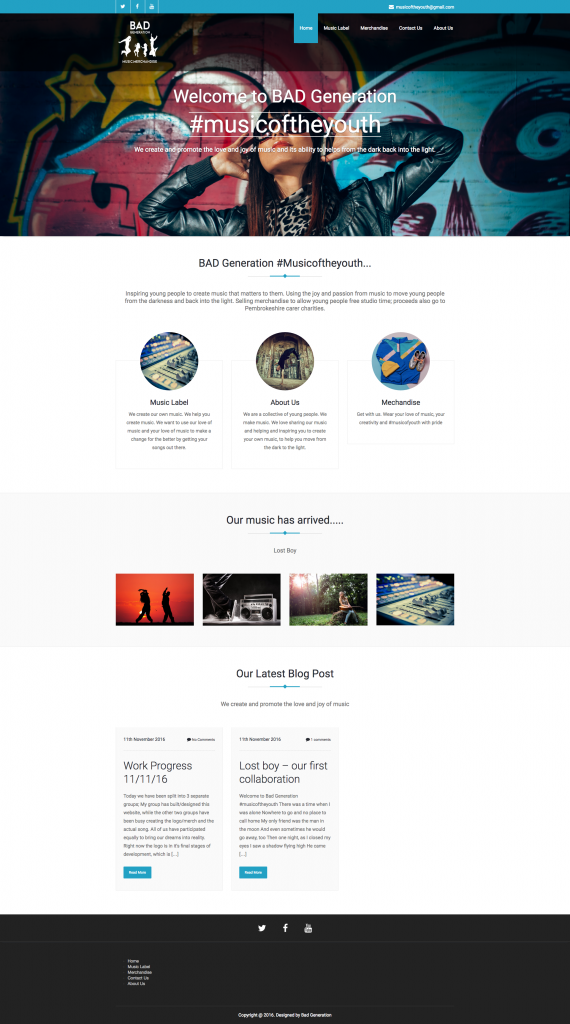 Please show your support and follow Sir Thomas Picton Schools Facebook Page responsibly. Click Here.